Sribindu Pisupati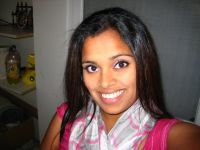 Nursing is the difference between a girl walking away from her first gynecological experience thinking, "I feel violated," and the same girl walking away thinking, "That wasn't so scary."
Let me share a story—one that wrenches at the heart a little bit. Rest easy, however, knowing that there is a happy ending. A friend of mine was diagnosed with an STD at the age of eighteen. Most people would probably assume that she was unprotected during sex, or perhaps, would wager that she was promiscuous. What most people wouldn't guess is that she had never even kissed a boy before this one, she was in a committed relationship, and that the boy, who was aware of his history with cold sores on his lips, displayed no symptoms at all. The rate of transmitting Type-1 oral herpes to a genital location during an asymptomatic outbreak is approximately 1%. The doctor at the emergency room went as far as telling my friend that this disease was "her problem" and proceeded to treat her like a pariah. The experience was so traumatizing, that not only did my friend decide she would never go to medical school (her lifelong goal), she also sank into a deep depression.
Like I said earlier, there is a happy ending to this story. My friend had to go back to the hospital for a case of the flu. The nurse practitioner there asked her how she was doing. Through her tears, she said, "Fine". The nurse practitioner smiled, and with nothing but kindness in his voice said, "Now I know that's not true! So why don't we try again…how are you?" The gesture, a simple but kind one, erased all of the negative associations she held against the hospital from her prior upsetting experience. She ended up applying to medical school after all and got in, determined to make a difference.
I was there through her ordeal. I saw the pain she felt at being treated as if she was the disease, rather than a patient afflicted with it. I saw the struggles she faced because of a lack of compassion and the rebound her attitude went through when she had nothing but humanity. In fact, her experience drove me to pursue nursing because I saw the kind of impact that a practitioner could have on someone's life in a positive way. I wanted to be the person that inspired interest in one's healthcare rather than an avoidance of it.
The Robert Wood Johnson Foundation New Careers in Nursing Scholarship has allowed me to pursue the dream I have of creating a rapport with patients and encouraging them to be aware of their bodies, take an active role in their education and treatment, and feel confident. I believe nursing is a catalyst for change; and I can be one too.