Randi Simpkins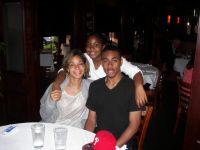 At the age of ten, I wanted to attend Duke University to become a pediatrician. My passion for children was undeniable and my love for learning was evident. Within six years my dreams diminished, my outlook altered; leaving a vision that was unclear and uncertain.
Instead, I steadily attended college while raising two children and working two jobs at a time. I fed my passion for children by becoming an elementary school teacher where I taught fifth and sixth grades for nine years. While I absolutely love the field of education, I knew that there was more for me to learn. Daily I encouraged my students to pursue excellence and reach beyond their limits. Upon reflection, I was forced to acknowledge that I, myself, had not attained my OWN goals of academic accomplishment.
For several years I labored over what the next steps would be for me—and then I stumbled upon the opportunities in nursing. I was immediately able to identify my inherent ability and desire to care for others and was excited about my willingness to learn a body of knowledge that was altogether novel. As the daughter of an educator, teaching was second nature. Nursing, on the other hand, was more of a leap of faith. My extensive analysis of nursing programs revealed that Duke University had an accelerated option which would help make my transition quickly and thoroughly. As a single parent, I doubted that I would be able to afford the costly tuition. The Robert Wood Johnson Foundation NCIN scholarship program helped me consider this dream a possible reality. So, I applied for admission to the school and submitted my application for the RJWF scholarship with the hopes that both would come through. And they did!
Since January of this year, a journey unimaginable has unfolded before my very eyes. The DUSON faculty has taken my heart and willingness for nursing to shape and cultivate an aware, astute, balanced, and prepared student nurse. They have exposed me to opportunities unimaginable, and have guided me toward my purpose and power in this field. And just when I thought that my BSN would be my final degree, I now aspire to obtain a DNP within ten years.
Nursing has given me a second chance. I have loved being a mother and a teacher. I will soon become a Duke graduate and a nurse. Without the RWJF NCIN scholarship I would not have been able to take this step toward success for myself and my family. Without nursing I would have never discovered the privilege of patient care, the impact of evidence based practice, and the window to improving the health of people across the globe. I realize that I have been granted an invitation to continually venture within myself to unearth optimal means of caring for others. This eternal gift came to me in the form of a second chance called nursing.
Happy 5th Birthday, NCIN, and thank you!