Joshua Gray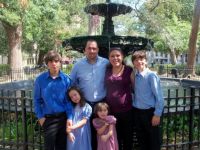 The paths we choose have a tremendous impact on what we get out of life. A recent job transfer and change in position had forced me to evaluate my own path. I was realizing for the first time that I had made a mistake in my career choice. I was a 32 year old husband and father of four children and making a change in my career would not be an easy decision—there were five people who depended on me greatly.
I was in upper level management in a national company. Most of the decisions I made were always for the good of the company and not always in the best interest of the individual. This was not a very fulfilling way to live. So, when making my decision on changing careers, the first thing I thought of was nursing. Obtaining a degree in nursing would allow me to have the opportunity to really help people and make a positive difference in people's lives.
I immediately got enrolled in school and begin working on my pre-requisites for the nursing program at the University of South Alabama. I applied for all the scholarships and grants that I could find. I even learned how to study again. I was so much more focused and motivated on what I needed to accomplish.
Changing careers meant a huge short term sacrifice. I wasn't sure how we would all make it to be perfectly honest. From the time I made the decision to go back to school until even now, I've simply had a real conviction that I am making the best choice for my family. Throughout this time I have always believed that I could achieve and obtain the same things as everyone else.
Receiving the Robert Wood Johnson scholarship has meant so much to me and my family. The scholarship has not only made obtaining a BSN possible but it has also given me the opportunity to provide for my family and make a new path. Following this new path will enable me to help my children in the future achieve their own dreams as well. That is amazing!