Jed Hansen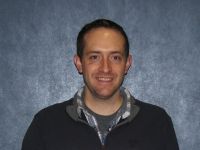 Unlike many nurses and fellow students, when deciding on a career in healthcare I wasn't sure what I wanted to do. I took a systematic look at several different career paths and educational routes, making sure I was going to enter into a career that made sense for where I was in my life and where I wanted to go. I was looking for a career that offered personal flexibility and autonomy, a career that allowed me to help others, and a career that offered various professional routes. After diligent research, I found that nursing was the certain path that would offer me all of these career traits.
Now, almost halfway through my accelerated nursing program, I feel that the decision I made over two years ago to leave my position as a corporate manager was the right one for me. My classes have been challenging, my clinicals have been enlightening, and fellow classmates and instructors, outstanding. Even as a nursing student I have been provided with opportunities to make a difference. I have positively affected the lives of many of the patients I have had the privilege to help in clinical rotations and have had wonderful experiences meeting a driven and diverse group of nursing students.
Yet, thanks to the Robert Wood Johnson Foundation - New Careers in Nursing Program (NCIN) I realize that many more opportunities exist post-graduation. Through NCIN I have been able to be paired with a current professional acting as a mentor for me, while also participating in leadership building exercises. I am beginning to recognize the significance of being a NCIN scholar and the importance of being an agent of positive change in nursing—as a professional leader and as patient advocate.
Thanks to the leadership opportunities and the very gracious scholarship provided through NCIN, I am now refocusing my goals to include opportunities that will allow me to impact the field of nursing as a whole, not just the patient base I will serve. Instead of finding myself under considerable student-loan debt, because of the scholarship, I feel that I will be in a position to continue my education after receiving my BSN and become a true leader in healthcare.
Because of the financial aid and leadership opportunities of the Robert Wood Johnson Foundation, a more highly educated and diverse nursing population will be able available to address the challenges and constraints of the ever changing face of healthcare, and better serve our patients. I am proud to be a Robert Wood Johnson scholar and I am grateful for the opportunities the NCIN program has given me already and the potential to make a difference in the future. Thank you.
Nursing is one of the few careers that offer the opportunity to impact the lives of others through so many different professional avenues.