Gift Horn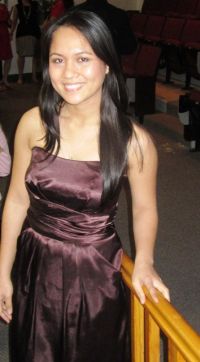 Growing up in the Philippines, I remember going to the hospital several times to take care of my sick relatives, usually my grandparents, who lived in the mountain in another town that didn't have their own hospital. I would bring home-made food, brought their dirty laundry back home to wash, and provide any other things that they would need for the week. I enjoyed staying in the hospital even during school days! I was so excited that the room had its own bathroom and shower, a comfortable bed, plenty of food to eat, and most of all, I loved spending time with my dear grandparents. In my young mind, I thought it was a nicer place than home. As I grew older and had more hospital experiences, my point of view on hospitals changed. They were no longer wonderful, care-free places to relax. Instead, they were filled with people who were suffering medically and needed someone to provide them with care. Yet, although my view on hospitals changed, my passion to provide care for others remained strong.
I witnessed how the nurses cared for patients and how the patients respected and were grateful to them. Some of my relatives became successful nurses which motivated me to be like them. After high school, my parents could not afford to send me to nursing school so I ended up enrolling a BS in Education program much to my disappointment. I finished my degree and though I don't regret being in that field, deep inside I knew there was something missing. I was the first person in my family to finish college and I was proud of my achievement, yet somehow I still felt that I wanted to be a nurse instead! I kept thinking and hoping that one day I could go to nursing school.
To make the story short, here I am - a proud graduating nursing student in the United States. I can't believe that I am where I am right now. I know I worked so hard for this, but I could not have done it without my ever-supportive, loving husband and family. I am thankful to everyone who believed in me, and even those who underestimated me because they gave me motivation to succeed. I believe in the saying, "Destiny is not a matter of chance; it is a matter of choice. It is not a thing to be waited for, but it is a thing to be achieved." (William Jennings Bryan)
Being a Robert Wood Johnson New Careers in Nursing scholar not only helped me financially, it also made me a better person. The community service that we perform improved my interpersonal skills and helped me develop my English language and leadership skills, and it also provided an overall boost to my self-esteem. Thank you Robert Wood Johnson Foundation for believing in me and helping me make my dream come true.