Angelo Llanes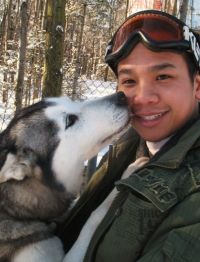 Until my senior year at Rutgers University, I had never aspired to be a nurse. Quite conversely, as a Filipino I attached a stigma to the nursing field considering it the "easy" or "expected route" when I wanted to find "my own route." This might have been due to my family pushing me towards nursing since I was young and seeing all of my other Filipino friends going to nursing school. Without giving nursing a chance, I entered college on an economics track. It took me three years of economics classes and a business internship to finally acknowledge the calling I had yet to recognize.
The summer of my junior year, I accepted an internship managing an exterior painting company. Due to the way the company worked, I didn't learn until I was deeply invested in the job that we not only charged a premium, but also performed a reduced quality job than our competitors. This translated into higher prices and the need for my clients to repaint their homes sooner than expected. These jobs cost thousands of dollars for which my clients worked very hard for and after several projects, I found myself wanting to do what was best for them. For good or bad, I worked with my remaining clients to cancel our contract and recommend them to another painting company. The result was that they were able to have a better quality paint job that would last for many years and at a more affordable price.
This caused me to reassess what I wanted to do with my life. My experience at the internship became a life changing event. I began to feel that I couldn't continue pursuing a career in business. I recognized that I was looking for a field which would provide me with feelings of fulfillment while providing the best for others. A light switch suddenly turned on in my head and I realized that nursing would provide me with a hands-on approach to caring and working for the best interests of my patients. To me, nursing had almost come like a calling. When I recognized it, there was nothing left to do but follow it.
The following year I took 20 credits each semester in order to finish my bachelor as well as take the prerequisites necessary for nursing school. My parents have always supported me in everything I've ever wanted to do, but due to financial reasons, they could not afford me going back for more education. I would like to express my thanks and gratitude to the Robert Wood Johnson Foundation: New Careers in Nursing. Your scholarship has allowed me to pay for books and the ever increasing cost of tuition. Thank you for allowing individuals such as myself to have a second chance.