Abimbola Grace Adetola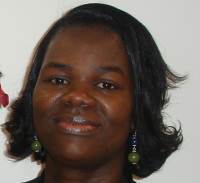 The decision to become a nurse was not a difficult one. Nursing to me is the pulsating heart of human care, without which a great deal of lives would be wasted or lost. Having recuperated from physical challenges, with recovery seeming to be initially elusive, I have been "nursed" to my present state of good health by great nurses who cared for me relentlessly. My passion for caregiving, coupled with the experience of illness, has conferred upon me an obligation to care for others; perhaps, my prospective profession may touch yet another life.
I have always liked all facets of science. Chemistry was my major in college and I had wonderful experiences working as a chemist and project manager. My interest and curiosity about matter and its ramifications for other aspects of the human existence compel me to make this transition to nursing— a more significant and fundamental matter of the human element. Now, being more mature and a mother of three, I yearn to transition into a more challenging and rewarding career that provides flexible hours to enable me to cater to my family needs and obligations.
Most importantly, I realized that I am a people person; a caring, devoted individual with a pleasant personality that will serve my clients very well. I also love listening to people and observing their response to stimuli. My few months of clinical experience have proven that I am in a desired profession. Through listening to patients, assessing their response to treatment, and using therapeutic communication, patients have been able to continually realize the strength that they still have. The only challenge for me now is choosing an area of specialty or concentration. I am captivated with psychiatry nursing, as I am with pediatrics. I am equally drawn to medical-surgical, women's health, emergency care of patients and myriads of daunting human situations.
My choice of Fairleigh Dickinson University is borne out of a desire to pursue a career in a highly reputable and diverse academic community with staff members who are genuinely interested in advancing career goals of students. FDU has prepared me for nursing.
I would like to express my gratitude to the Robert Wood Johnson Foundation for the scholarship award. The award went a long way in helping to pay for my tuition and to position me for successful completion of the nursing program. Furthermore, the leadership training and community programs have instilled in me the initiative for community impact. I look forward to more community service in diverse age groups; geriatrics being the top choice for me because I live in a predominantly geriatric community.
I believe that my persona and sheer conviction will help me become a great nurse. I firmly believe in empowering my community; a society that has accorded me so much support. I will be a caring and dedicated nurse: one that is meticulous in approach and living to fulfill a life's dream.