Our health care system is rapidly changing. Technological advances, an aging patient population with more chronic conditions, and a dramatic increase in the number of people who will have access to health care as a result of the Affordable Care Act are driving that change. Experts across the board recognize that nurses will need higher levels of education to lead that change and to provide the high quality patient-centered care that everyone deserves.A key goal of the RWJF Future of Nursing: Campaign for Action is having 80 percent of registered nurses hold BSN degress by 2020 as well as having the number of nurses prepared with a doctorate degree, double. NCIN is proud to recognize two NCIN alumni who are in the beginning stages of earning their doctoral degrees.
Sue No, BSN, RN, (University of South Florida) and Beret Ravenscroft, JD, BSN, RN, (Southern Connecticut State University), were accepted as fellows in the RWJF Nursing and Health Policy Collaborative at the University of New Mexico in January. Their studies will culminate in four years with a PhD and they will be professinally prepared to conduct policy-relevant research and analysis, develop innovative new policies, and become powerful advocates to improve care, especially for those in underserved communities.
No and Ravenscroft both started the program online earlier this year from their respective homes in Florida and Connecticut. In March, they will move to Albuquerque to fulfill the residency requirement of the program for the remainder of their fellowship. They talked about their reasons for pursuing a doctoral degree and their experiences so far in the program.
"The faculty at the University of South Florida and the support from NCIN have inspired me to develop a new vision and goal for change, particularly in health policy," said No. "I believe the rich experience I have obtained graduating from an accelerated program has allowed me to advance for higher education and take on the challenges for the compelling need for nurses in health policy research and advocacy."
"I think the public policy concentration of the University of New Mexico program is very interesting," said Ravenscroft. "I was an attorney before I became a nurse and left that field because while I enjoyed the client contact, I found the lack of flexibility in my job very frustrating. Nursing is a career that allows for much more flexibility and the idea of influencing public policy as a nurse is very appealing to me."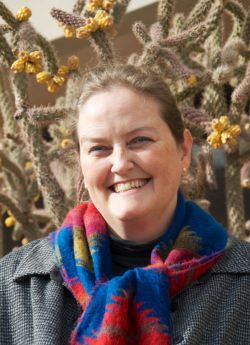 While both Ravenscroft and No have only been Nursing and Health Policy Collaborative Fellows for a short time, they both have enjoyed their early experiences with the program and look forward to being on-campus.

"I'm finding it very exciting," said Ravenscroft. "The professors are expecting us to be self-motivated and take responsibility for using our available resources to do the classwork. I'm taking a course in physiological concepts in advanced nursing that I'm finding exceptional and while I really look forward to seeing and interacting with my professors and classmates face-to-face, I've already developed some camaraderie with some of my classmates – discussing assignments and getting feedback and ideas."

"We had an on-campus visit last month," said No. "It was a great opportunity to meet the faculty, staff, and other RWJF fellows from the health policy program . The guidance and support from the many people of diverse backgrounds at UNM, who values mentoring others and providing a collaborative relationship, has left a lasting impression on me. I will embrace every opportunity during these new endeavors. This is an exciting time for a revolutionized healthcare system. Nurses are the future in deciding the direction health care will take for generations to come."

While earning their PhDs, RWJF Nursing and Health Policy Collaborative Fellows get experience in rural and underserved communities and at clinics and research centers across the country, and develop an understanding of the problems associated with disparities in health care. They work with legislators and at national organizations, think tanks, government agencies and non-profits. The focus of their studies is to improve access to affordable, quality care by building on nurse expertise in research, policy and health care delivery.

More information about the program is available at

www.nursinghealthpolicy.org

[1]

.

It is well-established that New Careers in Nursing (NCIN) is dedicated to increasing the number and the diversity of bachelor's, master's and doctoral degree-prepared nurses. In fact, entry surveys reveal that 95 percent of incoming NCIN scholars intend to pursue advanced degrees. NCIN recently announced a Doctoral Advancement for Nurses (DAN) project, intended to increase the number of doctorally-prepared nurses, and is working with other RWJF programs to encourage NCIN alumni to pursue doctorates.