Developing the Future Generation of Nurse Leaders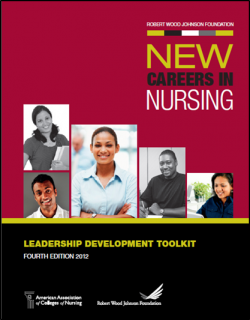 Leadership development is a key element of the New Careers in Nursing (NCIN) scholarship program. NCIN's Leadership Development Toolkit has helped grantee institutions create and implement activities that build scholars' leadership skills and help them assume leadership roles in school and after graduation.
Grantee institutions have employed a variety of resources to create leadership programs. Two institutions that have been highly successful are Nebraska Methodist College (NMC) in Omaha, Neb. and Norfolk State University in Norfolk, Va. Both institutions have accelerated BSN programs.
"The leadership program from the Robert Wood Johnson Foundation provides an avenue to assist the NCIN scholars through the transformative process of being student nurses to becoming professional nurse leaders," said Susan Ward, PhD, RN, director of Nursing, Special Programs at NMC. She notes that several NCIN alumni have told her that the leadership development they received as scholars has proven exceptionally useful when they've been asked to take on leadership roles in their workplaces.
NMC's leadership program uses the modules in NCIN's Leadership Development Toolkit, and has done so since receiving its first NCIN grant four years ago. Institutional leaders and faculty are selected to conduct the modules based on their areas of expertise. The dean of student services, the dean of nursing, and even the campus pastor have led sessions. Recently, NCIN alumni have been invited to conduct the leadership modules.
NMC students also use an online tool that assesses and identifies their leadership styles. Then they participate in sessions where they are grouped by similar styles to discuss how they can best use their strengths as nurse leaders.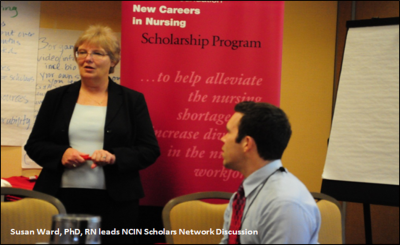 NCIN scholars at NMC are very enthusiastic about the leadership development opportunities presented to them and have requested more leadership information and experiences after they graduate. This year, NMC reached out to NCIN scholars at the two other grantee institutions in Omaha—Creighton University and the University of Nebraska Medical Center—to organize a joint leadership conference to be held on September 13. NCIN alumni, current scholars, and program liaisons are planning the conference and are thrilled to have secured Vernell DeWitty, RN, PhD, FAAN, the NCIN program deputy director as the keynote speaker for this unique event.
To meet the NCIN leadership development requirement for its scholars, Norfolk State University has created the interprofessional Nursing and Allied Health Leadership Development Institute. The institute was the brainchild of Bennie Marshall, EdD, RN, dean of the School of Nursing and an alumna of the Robert Wood Johnson Foundation's Executive Nurse Fellows program, a world class leadership development program for nurses.
The Nursing and Allied Health Leadership Development Institute sponsors several activities, including special presentations that students plan and conduct each year on specific topics related to leadership. This year, NCIN scholars are reading the autobiography of Frances Hesselbein, the founding president and CEO of the Leader to Leader Institute and a Presidential Medal of Freedom honoree. To kick off next semester, they will hold a moderated discussion with their peers to share their perspectives on leadership and Hesselbein's book.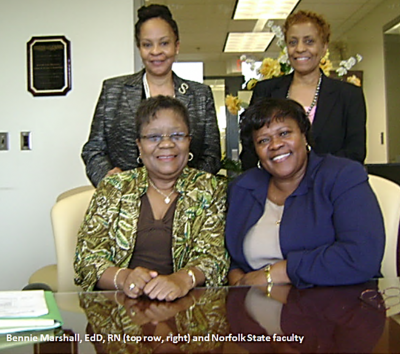 "We believe that leadership development is crucial in nursing school because it establishes the expectations that we should have of ourselves to become leaders," said Jessica Parrott, DNP, RN, CPNP, assistant professor and BSN coordinator in the department of Nursing and Allied Health at Norfolk State University. "We build the leadership skills that will help our scholars to become change agents and improve patient health and outcomes."
The Leadership Institute requires a significant investment of time on the part of scholars, but the benefits are tangible. Parrott recently received an email from a 2011 graduate who was an NCIN scholar reporting that she has accepted a position as head nurse educator at a large primary care practice.
The lessons of the Leadership Institute are supported by Nursing Success Seminars, which include Eat and Review sessions during which students have the opportunity to strengthen specific skills like critical thinking and test taking. Alumni are also offered additional leadership opportunities with Norfolk State University, as they are invited to serve as mentors to current scholars.